Orphanage for girls and boys "GOOD HOPE CENTRE"
Usa-River, Arusha, Tanzania


When Ingeborg Hoffmann travelled through Tanzania and the Serengeti with her daughters Susanne and Astrid in November 2005, she met Elisante Pallangyo and 43 orphans aged 3 - 15.
He had already taken in the orphans and was trying to feed them and provide them with a home.
He had neither received any money from an aid organization nor any kind of support from the state of Tanzania.
He counted on nice, helpful tourists who came by and donated what they could.



These are the orphans: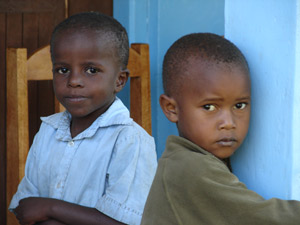 These are the persons who take care of the orphans:
Orphanage in 2005:


The little building they lived in was rented.
It had 2 bedrooms with bunk beds. 5 - 7 children had to sleep in one bed and the clothes on the backs was all they owned. There was only a camp fire to cook on, no living room and at that point Elisante had only 20 USD left.

The Hoffmann family knew: Elisante could and had to be helped.
And that is what they set out to do:
money for building the orphanage was provided. By now the orphanage as well as a little educational building have been build. The children now have their own roof over the head, go to school and are teached how to sew and to do wood work.



These are the buildings where the orphans live today:
School building: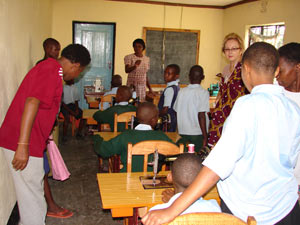 In January 2007 the Hoffmann family went to Tanzania again in order to observe the progress made and visit the children.
This time they brought mosquito nets, pens, pencils, note pads, umbrellas and 120 kg of second hand clothing.

The children's eyes were sparkling with joy.
It is so touching to see how grateful they are for even the smallest gift!
It was a pleasure to see how well the money was spent and that the poor orphans were doing so much better.

But there is still one big concern:
to assure the food and education, the GOOD HOPE CENTRE needs a minimum 2000 Euro per month.

We are still looking for compassionate people, generous enough to donate 10 Euro each month.

" If you could spare 10 Euro every month and would like to join the supply family, you would make me very happy - and the children and Elisante would be even happier !

On 6 February 2007 I opened an account at the Solbank in Empuriabrava.
The bank manager Xavier Caball i Saguer is supporting us by not charging account fees and the money transfers to the orphanage's account will also be free of charge.

I hope that we will soon be able to send 2000 Euro to the children every month.
That is why I am kindly asking for your help and your support.".


Contact Ingeborg Hoffmann



Send us an e-mail or call us, if you want to join us !




Account number Solbank Empuriabrava:

GOOD HOPE - ASSOCIACIÓ PER L'ESPERANÇA DELS NENS DEL MÓN
ES53-0081-0177-1000-0153-4959
BIC: BSABESBB SWIFT: BSABESBBXXX



We want to express our deep gratitude to Peter Schulte, who helped us spontaneously and asked, instead of birthday presents, donations for the orphanage.
With this money, we could buy in 2006 beds, chairs, tables and sewing machines.
Peter and Annette Schulte, during a journey to Tanzania in November 2006, visited the Goodhope centre and is more than ever dedicating his efforts and time to organize any possible support.
You can find the information about this support at www.good-hope-centre.com

End 2007, another plot near the school could be bought thanks to the help of Frank Maser and Peter Schulte.

Now, in 2008, we have been able to accommodate 53 orphans.

Needed are 7 assistants, which means that every day, 60 people has to be nourished.

2008, new school uniforms have been bought.

The assistants, who until now only received a very small wage, should in the future, once thanks the donations enough money is coming in, receive a decent wage adapted to the work they provide. We would like them to continue taking care of the children, while being able feeding their own family.

We are grateful for any donation or help, even the smallest is welcome. Every cent is transferred immediately as it is desperately needed !

Please help us!





Fotos from the month of April 2008:

The children are looking well-fed, healthy and happy now!!
To compare: this was the way they looked in November 2005:

This is the fabric of which the school uniforms will be sewed in the sewing school:

List of the supply parents for the orphans of the GOOD HOPE CENTRE
I TROBADA GASTRO - CULTURAL 05.06.2008
Cake competition for the GOOD HOPE CENTRE - 02/2008
GOOD HOPE CENTRE - Photos 11/2007
www.ampuriabrava-hoffmann.de/goodhope.html
www.good-hope-centre.com
Impressions of Tanzania